Long Term Power Rental Solutions : Diesel Generator set 100 KVA to 2000 KVA
Diesel Generator set 100 KVA to 2000 KVA Ace offers acoustic enclosed gensets of 100-2000 KVA for long term rentals which are backed by excellent service provided by well trained genset operators and service engineers. Our operators have years of hands on experience of genset maintenance and are capable of handling routine/preventive maintenance work on site so as to ensure minimum downtime. Ace provides CUMMINS® diesel generators, which are the global leaders in high capacity generators.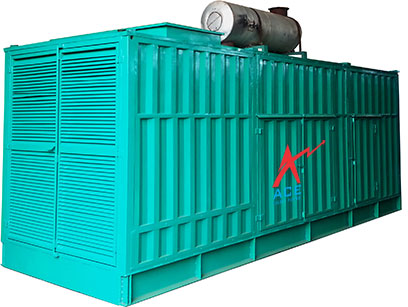 High Capacity Generator sets > 2000 KVA rental solutions
Ace offers high capacity multi-megawatt generators on long term hire to help manage power needs in sectors such as oil & gas, mining, power generation etc. Ace provides high capacity generator solutions with the help of auto synchronizing panels.
Fuel Management Services:
Ace offers independent fuel storage tanks so that your hire generator can run continuously for extended periods (days, weeks or months) between refueling intervals. This is especially convenient for long term hires where generators are running continuously around the clock. Our staff is well trained to handle your fuel management needs to ensure continuous power. Our fuel storage tanks are provided with the necessary gauges, connections etc. and are available in containerized and open configurations to suit customer requirements.
Mobile Lighting Tower rentals:
Ace offers reliable mobile lighting tower for long term hire. These lighting towers offer temporary lighting solutions especially for huge outdoor events, construction/highway projects etc. Towers are extendable, compact in size and are mounted on trolleys for ease of mobility on site. Our lighting towers are tested before dispatch to ensure uninterrupted service on site.
Product Features/WHY ACE:
24/7/365 Breakdown Service - Our qualified field technicians are always available to ensure that you remain operational day and night
Own fleet of trucks for fast transportation and in-house mounted crane for quick loading ensures speedy delivery
Generator set on wheels – Truck mounted generators are also available for easy mobility on the site
Quality service at economical prices
Complete spares support through our group company, North India Diesel Spares ensures minimalistic downtime and preventive maintenance
In-house load testing facility to test the generator load